ETCHE SECURITE is a subsidiary of the ETCHEGOYHEN Group located in the heart of the Basque Country in South West France.
From its creation in 1932, ETCHE SECURITE has steadily gained a genuine expertise in the formulation, mixing and moulding of rubber footwear.

Today, ETCHE SECURITE manufactures technical rubber safety boots, shoes, waders and thigh waders to protect the professionals.
All our products are manufactured on a single site by experienced personnel. It is this control, from the design to the production stage, which enables us to develop innovative products and guarantee the quality of this Individual Protection Equipment (IPE).
The design, production and inspection of the rubber mixes, linings and boot mouldings are monitored by an ISO 9001 certified quality system.
The company is the specialist for rubber boots for firemen, the chemical industry, electrical protection, NRBC, etc. and exports over 60% of its production to a network of specialist distributors in around 30 countries.
ETCHE SECURITE also supplies several armed forces, the merchant navy and the French Navy, as well as a large number of protective suit manufacturers.
MATERIALS USED: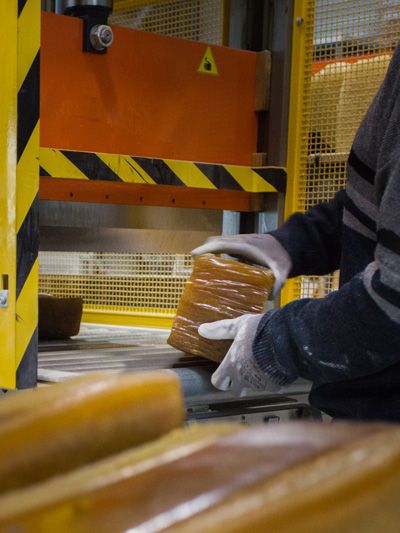 Unlike PU (polyurethane) and PVC (thermoplastic material), rubbers, after vulcanization (high temperature chemical reaction), offer a resistance that is second to none, in particular to extreme temperatures, chemicals and electricity.
The thermal properties (heat resistance), electrical properties (anti-static or electrical insulation) and chemical properties of each boot model are obtained by selecting the most suitable elastomers or by combining several natural or synthetic rubbers. ETCHE SECURITE also uses certain rubbers such as neoprene, Hypalon and Viton that are developed by Dupont Performance Elastomer http://www.dupontelastomers.com
MANUFACTURING PROCESS:
Putting in the lining, Removing the boot from the mould, Deflashing.
Compression moulding is a process that guarantees complete watertightness and perfect cohesion of the upper and the sole (no gluing, welding, overmolding, etc.)